Change…. Like Always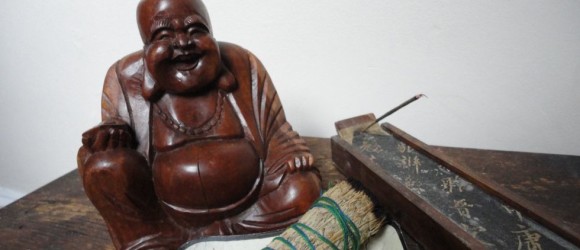 Nothing is constant but change. Heraclitus of Ephesus said this (or something similar) way back about 500 years BC. Since then, his sentiment has been quoted, re-quoted, put on a coffee mug, turned into a trivet, a t-shirt, the moral of a Saturday morning serial and then quoted by someone else…but what exactly did he mean? From his very limited perspective, having never left Greece and then dying before he'd even turned 60, stating that change was the only constant throughout the entire universe was a pretty bold claim. So how did he have it so right way back then? How did he know with such clarity that we would spend the next two-thousand-some years anticipating and fearing the inevitability of changes over which we have little to no control? And why are we all still so scared and nervous and unsure about something that we know is going to persist in our lives whether we like it or not? Is it the stability of constancy we crave or is it the fear of the unknown that makes us miss the way things were way back when? And even more than why- what do we do about it when it happens? How do we make sure that we aren't swallowed up by our trepidations in times of flux when we really need to be focusing more than ever on the matters that arise as we enter a new chapter of our lives?
You don't know this about me, but I've had quite a few changes present themselves to me recently. As a matter of fact, as I sit here writing this for you to enjoy, I'm no more than 2 months into a new job. I'm barely 4 months into a new home, with a new someone I've never lived with. I'm less than a year into living apart from my best friend for the first time since we were teenagers. Pretty big changes all around, and with each of them has come a loss of control that's left me feeling impotent. It hasn't been easy. Change usually means having to give up control and that can be a tricky thing for just about anyone. New people at new jobs apparently do things a bit differently than I'm accustomed, far differently from how I'd like them to be done, and I've had to give up some of that control to get through it all. So what's a control freak like me supposed to do? Let everything around me be dictated by others into infinity? No. Let change happen all around me and then just deal with it or get over it if I don't like the way things have progressed? I don't think so. I took the reigns over the one thing I knew I could control even in the midst of massive change- my state of being. I knew I had to find a way to center myself in the stream of movement and transition happening all around me, and I needed to do it in a way that would still allow me to focus on my new job, my new home and my new relationships. I started by trying to center myself in the usual way, with meditation.
It may sound corny but when it comes down to it, often the best way to find peace in your life is to actually make yourself be peaceful. Only when we shut ourselves off from the chatter of thinking, seeing, hearing and speaking can we ever truly be open to the wealth of cosmic energy swirling all around us at all times. Meditation is conscious sleep just as sleep is unconscious meditation and they both benefit us in the same way, though most of us never stop to realize it. We can recharge our bodies and brains by simply letting them absorb everything they do naturally when they are in a restful or "no thought" state. It's simple: just breathe, let breathing be your mantra.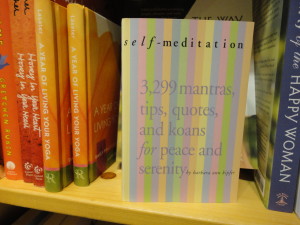 Barbra Ann Kipfer quotes a great guru in her book Self-Meditation: 3,299 Mantras, Quotes and Koans for Peace and Serenity as he asks us to "Be mindful of the position of your body and of the purpose of this position. Know where you are," as we try to meditate. One must assume that this wise guru is first and foremost asking us consider the position of our bodies as we meditate, but more than that, I think he wants us to stop and take a little time to consider the current position and place of our bodies in our lives. Knowing where we are isn't simply about knowing where we are as we're sitting with our legs crossed, it's about knowing where we are in the universe. It's about knowing where we are in our lives even as everything around us changes. It's about knowing and trying to appreciate the reason we're in a state of change in the first place. Know where you are. Consider your position and the purpose of this position. Find a center and your state of being will begin to center itself. It's just that easy.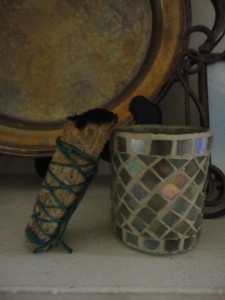 Once my mind and spirit were on their way to attaining a new centered state of being to help me cope with the change all around me, I decided to move outward from myself to my home. It was time to create an oasis. But….wait….most of my oasis was still packed up in brown boxes at the time, and much of it (it was decided by a newly formed committee of two) was not going to live in the new house. Once again, lots of change, little control. I needed to make my new home into a safe space and sanctuary so that I could come in from the uncertain outside world and find respite and comfort. So I started with incense. Lucky for me, my aforementioned new job involves working around some of the most amazing companies in the incense game today and I put them to work. I used a white sage smudge sticks from Juniper Ridge to cleanse my new space. I thought of it like whitewashing a canvas and once it was bare I went to my tried and true, long time favorite smells; lavender and jasmine, this time in the form of amazingly fragrant cone incense by Shoyeido. Before I knew it, my empty new home and my unpacked boxes were starting to smell like home. Things were starting to change in my favor and I was feeling more at home every time I inhaled deeply.
Now that my home was feeling more like mine and less like somewhere I'd never been before, I decided to work on accepting and dealing with the biggest change, the one that was affecting me the most: the recent relocation of my best friend. We hadn't lived apart since we were 18 years old nearly…..a lot of years ago, and as much I would like to pretend I hadn't, I had become rather used to seeing her all the time, having her to run the grocery store with, have her nearby for a late night cocktail. I knew I wouldn't be able to just accept it, get past it, move on all at once, so I made sure to set reasonable goals for myself. Surely I could go to a grocery store by myself – that was an easy enough experiment to get out of the way. We decided to turn our random late night cocktail dates into phone dates…. with cocktails. That wasn't so painful or major a thing to adjust to, but the not seeing her, that was the change I couldn't deal with, the part that was making me long for the olden days way back in 2012 when I could wander down the street to her house and yell up at the windows for her to come down. I knew this was the type of change that only the passage of time would make seem okay. This was the part that would never go back to feeling "normal," it would just have to be new.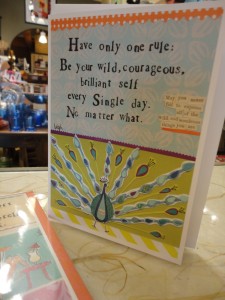 I knew these changes couldn't be easy on her either, so I decided I should help stem the tides of change for her benefit and not just myself. She was the one who had to move to a new state and a new city, filled with new people and new faces. That had to be way harder than my silly new apartment a few blocks from my last one and my new job filled with comforting smells of home. If she could deal with the changes in her life, I could deal the changes in mine. So I set myself a reasonable aspiration: I would learn to appreciate our correspondences and phone dates as much as I did our time living together. I got in the habit of sending her little cards whenever I was missing her, about once a week at first, maybe twice. Another great perk of my new job? Cards, some of the most amazing cards I've ever seen. It wasn't the same as running the town together arm in arm but I knew a happy little sentiment from Curly Girl was making her smile when she opened the mailbox.
It's only been a few months but the new house is really coming along. It has the perfect flow for entertaining, and if we ever truly get done unpacking, I'm sure we'll do plenty of it. The new job is going better than I could have hoped and I am fairly certain that it should go on the "for the better" list of changes. The best friend and I have a standing weekly phone date, type of cocktail to be determined ahead of time. We like to try a new concoction from time to time because change is a good thing, of course.
Change is inevitable, and since inevitability is when something is to be expected, and expecting something means to look forward, I guess that means change is something to look forward to. We should all be grateful for changes as they present themselves because they bring the richness and newness that makes our lives interesting and mysterious and grand. Simply coping with the stress of change isn't enough to get through it. We shouldn't hope to merely survive a change; we should want to flourish in the face of it and take every beneficial piece of growth we can ascertain from it along the way. We should all want to end up better and smarter, richer and more evolved that we were when we started. We should want the change to happen to us and not just to the world around us while grit our teeth and bear down waiting for the pain to pass. John F. Kennedy said it best, that "Change is the law of life. And those that look only to the past or the present are certain to miss the future." He wasn't the first to tell us this, of course; he just heard it somewhere along the way and changed a few of the words.