Nest Fall Fashions ~ Aimee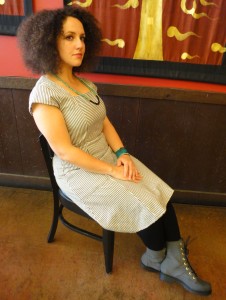 Aimee is our eclectic girl – she loves to push boundaries and isn't afraid to try new things with fashion. She wears pieces with interesting architectural and textural details, loves to buy local, and always tries to support companies that use fair trade business practices and work with organic materials.
Aimee can't wait to try out some of her favorite summer-length cotton dresses with her new cable knit organic cotton tights from PACT, perfect for the cooler fall weather when worn under this eye-catching black and white railroad stripe.
A pair of new gray combat boots makes the look totally her own with just a hint of bold color on her neck and wrist that leave her feeling confident and looking cool all day long.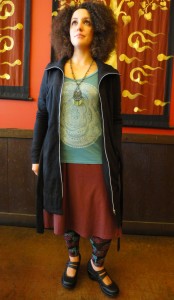 Aimee knows that fall fashion isn't about having to cover up in additional layers; it's about getting to. Mixing patterns, colors and styles all season long is a blast in her fall floral organic cotton leggings from Pact and a punch of color from her Super Maggie's long sleeved tee. With a simple skirt in wine red, Aimee looks just perfect for the season.
To keep a spring in her step all day long, Aimee's vegan "suede" Maryjane's from J41 are a perfect fit. The slight wedge gives her a touch of lift without sacrificing comfort along the way.
Aimee feels comfy and cooler than the October breeze in her Rock n Roll styled black belted trench from Synergy; the perfect outer layer for those busy autumn days. Topped off with a say-something chandelier necklace from Stella Blue, she's ready to hit the town in style or snuggle up at home with her honey.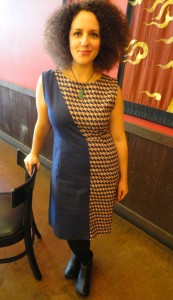 Never one to be outdone by the weather, Aimee laughs at the idea that sleeveless dresses have to disappear in the fall.  This sleeveless Savannah Smile dress from Mata Traders keeps her looking adorable while her cotton leggings keep her legs warm all day and night. The organic cotton fabric is warm without being heavy and the Catstooth print is sweet without losing its editorial appeal.
A pair of simple, slightly heeled black ankle boots from Jambu finishes off the look to perfection – simple, elegant and perfectly appropriate for the autumnal atmosphere.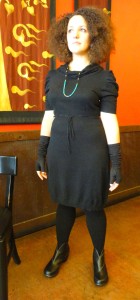 The shorter days don't hurt Aimee's feelings at all- after dark is her favorite time of day. Her Asylan Dress by Aventura is perfect for this time of year, its attention-grabbing sleeve details and heavier knit just scream vintage inspired while the cut and silhouette are totally new.
This time of year is all about drama, so Aimee adds a touch of gothic beauty, perfect for the Halloween season, with a pair of black cotton fingerless Glovelettes from Echo Verde. The final touch is a statement piece of jewelry from Shari Dixon with a leaf motif set in oxidized silver with turquoise accents.
Paired with a comfortable but stylish black ankle boot and some leggings, she's ready to take back the night. Now no matter what the evening holds, Aimee is ready to face it head on, chin up, heart on her sleeve, world in her pocket.
Aimee's Looks:
1
Savannah Smile dress by Mata Traders $72
Patina Bronze Cuff by Melissa Lowey for SSD Jewelry $50
Nila Necklace in Green Turquoise by Aid Through Trade $110
Black Organic Cotton Cable Knit Tights by Pact $34
Dallan Boot in New Black by Neuarua $139.99
2
Comfy Skirt in Merlot by Texture $72
Fall Floral Leggings by Pact $34
Trench Coat Rock in Black by Synergy $128
Mandala Ladies' Organic Cotton Tee by Super Maggies in Seawater $42
Kyoto Shoe in Midnight by J41 $89
Vintage Metal  Chandelier Necklace in Green by Stella Blue $75
3
Half Moon Dress in Catstooth by Mata Traders $72
Black organic cotton leggings by Pact $38
Esmerelda Boot in Black by Jambu $150
4
Asylan Dress in Black by Aventura $90
Esmeralda Boot in Black by Jambu $150
Black Cotton Leggings by PACT $34
Damiana Rectangle Leaf Necklace by Shari Dixon $60
Glovelettes in Black by Echo Verde $26