Nest Fall Fashions ~ Sarah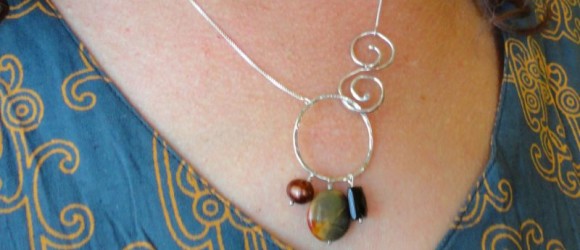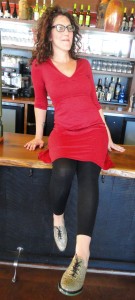 Sarah is our uptown woman. She's smart, savvy and always stylish. She loves fashion, respects quality, and seeks out socially responsible companies. She understands that dressing for fall isn't just about covering up; it's about layering, utilizing heavier fabrics and knits, and focusing on the proportions that work best for her.
Her favorite summer dresses don't have to go to the back of the closet just yet – this Rosalinda Dress in Deep Ruby with its warm knit and ¾ length sleeves is perfect for the fall when worn over a pair of simple black organic cotton leggings.
A pair of statement-making flats in a fabulous faux croc will take her from day to night with comfort, ease and elegance, while a touch of colorful sparkle at the ears and neckline will make her the envy of all her friends.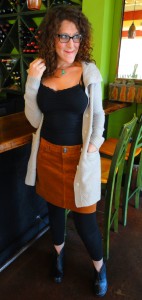 Skirts and camisoles don't have to disappear just because the leaves have started to turn.  This brassy corduroy skirt and black camisole pair perfectly with ankle boots and leggings.
Sarah knows it's the perfect time of year for a pair of black ankle boots from Jambu, just high enough to keep her feet warm without covering her calves up completely.
To finish it off, a merino wool coat from Patagonia that will keep her warm right through New Year's Eve and a verdigris heart pendant that will keep her smiling sweetly.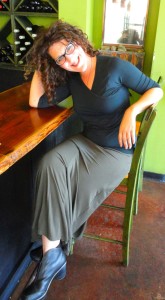 Without missing a beat, Sarah goes from mini to maxi, with this flowing maxi skirt from Nau in a sensible and chic smoky brown in a warm and wearable Tencel.
A kimono wrap top in a sheer knit with ¾ length sleeves will keep her just warm enough without adding unwanted bulk or changing her elegant silhouette.
Simple black boots and a pop of color on the wrist and at the neck are all she needs to take an idea as simple as a skirt and top and make it all her own this season.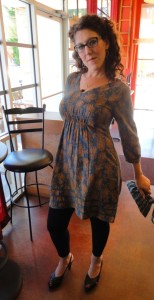 When night falls, Sarah doesn't want to be trapped under a huge, heavy coat all night, so she picks a slightly heavier cotton dress from Mata Traders and wears it over thicker cotton leggings with great heels.
The gray and gold tones work perfectly this time of year and compliment the autumnal palette all around her, while the black leggings and matching shoes keep her looking pin sharp and put together.
A statement-making silver and jasper necklace and earrings set and an adorable fabric clutch from Maruca Bags complete the look, and Sarah is ready to enjoy her night from now until it's time to deck the halls.
Sarah's looks:
1
Rosalinda Dress in Deep Ruby by Horny Toad Clothing $80
Teardrop Garnet, Carnelian and 14K gold Neckalce by Mashka $90
Green Quartz on 14K Gold Necklace by Mabel Chong $95
Black organic cotton leggings by PACT $34
Elstan Shoe in Grey by Neuaura $109.99
2
Women's Corduroy Skirt by Patagonia $69
Women's Merino Sweater Coat by Patagonia $249
Black Organic Cotton Leggings by PACT $34
Black Organic Cotton Camisole by PACT $28
Esmeralda Boot in Black by Jambu $150
Green Verdigris Heart by Melissa Lowey for SSD Jewelry $45
3
Brit ¾ Length Corssover Top in Black by Yala $56
Repose Cotton Skirt in Tobacco by Nau $90
Esmeralda Boot in Black by Jambu $150
Verdigris Bronze Three Rings Necklace by Melissa Lowey for SSD Jewelry $70
Bronze Patina Cuff by Melissa Lowey for SSD Jewelry $50
4
All Gathered Up Organic Cotton Dress in Gray by Mata Traders $65
Black Organic Cotton Leggings by PACT $34
Miyun Shoe in Vegan Black by Novacas $115
Chica Fabric Clutch in Fronds Shadow by Maruca Bags $35
Canyon Jasper Earrings in Sterling by Altitude $42
Canyon Jasper Necklace in Sterling by Altitude $56