Nest's Holiday Gift Giving Guide!
From stocking stuffers all the way to the perfect present, Nest is overflowing with amazing gift ideas to fill every person on your list with holiday cheer! Here are a few of our favorite new and returning items to give and receive this year, along with a few tips on keeping it green and socially responsible this holiday season!
Something for the Little Ones: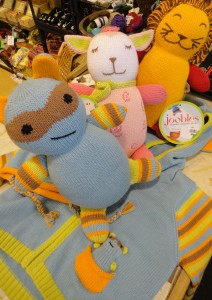 New to Nest this season is one of our absolutely favorite new brands for the littlest of us: Joobles Organics! Coming to you fair-trade from Peru, these huggably soft and super safe plush toys, hats and hoodies are just what the doctor ordered to keep your favorite little animal warm and happy! Made from 100% organic Tanguis cotton and Oeko-tex certified baby-safe dyes, Joobles are not only the cutest of the cute, they are the safest of the safe. Roar the Lion, Mel the Monkey, Jiffy the Giraffe and all their friends are here just waiting to come home with you and delight your little one this holiday!
How to Keep it Conscious:
Babies and little ones love to put just about everything in their mouths, so make sure that when you're buying for the little ones in your life you keep it toxin free, BPA free and all natural! Great toy companies like Anamalz work exclusively with safe, sustainable, natural materials and non toxic paints. You can buy corn-based and BPA-free plastics when searching for teethers, or give the gift of BPA-free glass drinking bottles as a great alternative to the typical plastic ones.
Something for the Entertainer: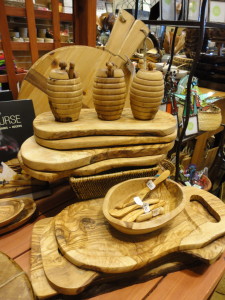 More than just a lovely conversation piece, our mango wood serving pieces from Circa Asia and olive wood collection from the Natural Olive Wood Company are a true testament to the beauty of responsibly sourced woodworking. Brought to you fair-trade from sustainable forests, these pieces make an impressive impact on any entertaining aficionado and will become a favorite in any home.
How to Keep it Conscious:
When it comes to wood, always choose companies that use sustainable, responsibly sourced materials, oils and sealants as opposed to those made from chemicals. When you can, buy fair-trade or American made, like our jaw-droppingly beautiful trunk sliver cutting boards made right here in the USA at Boards by Joel.
Something for the Chef:
Cast iron from cookware from Lodge is nothing new, the company began pitching their wares way in 1896, but their popularity has never been higher. Cast iron cookware is the new normal; safer than Teflon, more durable than ceramic, and the perfect gift for that certain someone in your life who loves to cook.
How to Keep it Conscious:
When buying for those foodies on your list, remember that food safe isn't the same as all natural. Look for companies that avoid the use of chemically affected materials and shun unnecessary packaging wherever possible.
Something for the Spiritual One: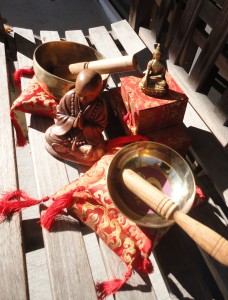 The perfect gift for any occasion, meditation lovers will find the path to everlasting peace this holiday season with our singing bowls and meditation accessories from the Tibet Collection. Our hand tempered brass bowls are from India and come in a variety of sizes, styles and tones. They make a beautiful addition to any home when paired with a piece of statuary or a lovely brocade pillow.
How to Keep it Conscious:
Buying from companies that support fair-trade is a great way to stay responsible and assure that the proceeds from each sale are being allocated appropriately by the company that provides them. Fair Trade companies and those that support local trade unions are a great way to give back the world at large in this and every season.
Something for the Eco-Friendly Fashionista: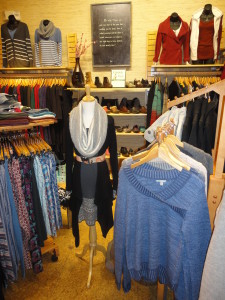 Old or young, dressed up or always casual, the perfect piece of clothing can make anyone's heart skip beat as they unwrap it at the holidays. Whomever you hope to adorn this year, we have something to deck them out as they deck the halls. Some of our favorite pieces this year include the absolutely gorgeous Éclair sweater from Horny Toad and Patagonia's attention grabbing Merino Wool Sweater Coats. Our organic cotton long sleeve tees from Super Maggie's with their winter motifs make an amazing gift. We even have fabulous vegan boots from Jambu and Neuaura that will keep the woman you give them to smiling for more than just eight days and nights.
How to Keep it Conscious:
Here at Nest we assure you that every piece of clothing that passes through these doors is held up the highest standards of quality, care and responsible sourcing, now and all year long. From fair-trade to organic, from up-cycled to vegan, we have responsibly sourced clothing, shoe and accessory options for everyone.