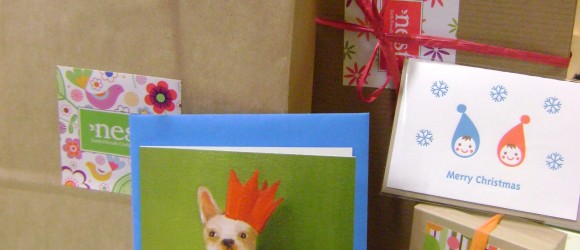 Like a lot of people who frequent Nest, I love gifts.
I love shopping for gifts, I love giving gifts, and I love getting gifts (hint hint). For me, the best part of the gift-giving process involves taking time to really consider what my friend or family member's tastes and preferences might be at the moment. For example, someone who may have been collecting penguin figurines could now be really into reading books about astronomy. People change and that's what makes them fun, but it's also what may make the gift-giving process a little daunting… especially around the holiday season. That's why I've developed what I think is a guaranteed system for finding satisfying gifts for the hard to shop for.
1. Look for something that can be enjoyed and then eventually disappear.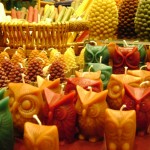 It may be a bit cliché to say, but gift-giving is rarely just about accumulating material goods. It's about showing someone that you care about them enough to celebrate them. In my opinion, just because someone seems to have everything doesn't eliminate their need to be honored in this way. That's why candles make a perfect gift for the person who has everything. Candles give off their twinkly little light and then they're gone forever, leaving nothing but a pleasant aroma behind them. No clutter and no fuss. Right now we have some great candles in the store including one of our newest candle vendor, Greentree. These candles are 100% beeswax and they come in all sorts of fun shapes like pinecones, owls and twigs.
2. Something functional but out of the ordinary
It's kind of a joke around here how much I love Herbal Animals. I'm deeply fond of the whole menagerie, and it's a big deal when a new animal gets added to the line-up (Harry Otter was just released!).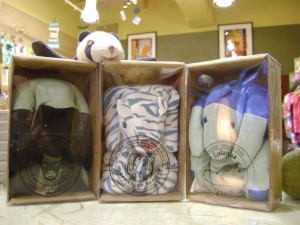 Aside from being cute and smelling really good, Herbal Animals also function as eye pillows, so they're great for someone who needs to do some relaxing. I'm a big worrier and often push all of my worries to the very end of the day when there's nothing to do but lie around and stew over them. Putting an adorable little creature over my eyes helps keep them shut and helps keep me from taking myself (and my troubles) too seriously. I stop tossing and turning and just let the dreamy scents do their work.
3. Something to encourage creativity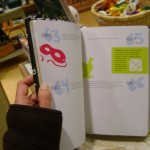 I think that when you give a gift that inspires and nourishes creativity, you're helping feed a much deeper need in someone. We all have a desire to explore our potential or unlock some part of ourselves that we didn't know we had. Journals, especially guided journals like 365: A Daily Creativity Journal, offer a fun way to practice and explore creativity on a day-to-day basis. Back when I was a teenager, my mom used to surprise me with new journals every few months. I always felt extra compelled to fill them up because she had endorsed me and my writing in that way.
4. Socks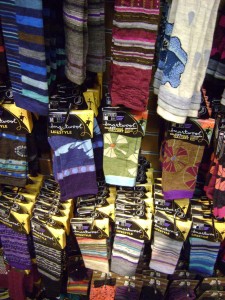 I think socks are kind of considered the fruitcake of wearable gifts. At least that's the impression I often get when I suggest socks to customers who are looking for a gift for someone who is hard to buy for. Hear me out, though! There's a wide world of crazy beautiful socks out there…stunningly colored, charmingly patterned, dazzling socks! These socks are a completely different species from the plain white 4-pack you got from your uncaring Secret Santa. It may be a little funny to think so much of socks, but I truly believe that when your everyday objects are as beautiful as they are functional, it can change how you approach the minutea of your life, and that in its self is a great gift.
Shopping for gifts can be difficult, especially when the recipient is a little hard to figure out. I like to use this system whenever I get stumped, but sometimes I find asking for help gets the job done just as well. Here at Nest, we spend a lot of time hand picking a wide range of gift items with you and your needs in mind. We know our inventory and love a good challenge. So go ahead, ask us. I bet we can find what you're looking for…even if you don't know exactly what that is yet!