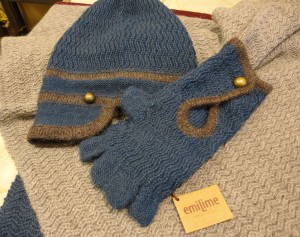 This fall, Nest is proud to present the luxurious woven accessories of EmiLime Handcrafted.
Working directly with the people of Peru in every step of production, from sourcing materials to producing each piece by hand, EmiLime keeps close ties to its roots and the country that is at the core of their inspiration while assuring them that their pieces remain a symbol of ethical and sustainable fashion worldwide. Made from the finest Peruvian alpaca wool, this vintage-inspired and globally recognized collection is skillfully crafted by some of the most talented artisans in the world, wrought with details and techniques that add character to every piece, elevating them from the ordinary to the absolutely extraordinary, delivering a look that is both accessible and truly unique.
Knit caps and scarves are only a fraction of their delicious offerings this fall; beautiful brass-button adorned gloves, statement-making caplets with wood buttons, lavish striped snoods (a scarf that doubles as a hood), shawls with long tassels, caps and wraps are available in a sumptuous array of colors and combinations that will delight even the most experienced shopper this upcoming holiday season.