Gluten Free at the Holidays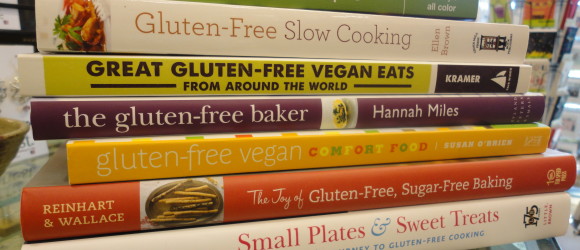 Being gluten-free during the holidays can be difficult! There are so many delicious wheat based treats: cookies, snacks, pies, cakes, gingerbread men – it can be a true test of one's holiday resolve to stay on the GF wagon! I've been gluten free for about 4 years now, and the holidays are the toughest time to keep yourself from jumping ship altogether.
This holiday season, treat the gluten-free folks in your life to something special and show them how much you really care! Here at Nest, we always have a great selection of gluten free cookbooks, but this time of year it's all about winter favorites like Small Plates & Sweet Treats, Gluten Free Comfort Food, and The Gluten Free Baker. These beautifully illustrated and well researched books are filled to the brim with delectable treats and helpful hints that will keep anyone, gluten free or not, licking their lips until New Year 's Day! We even have a great selection of cookbooks for the gluten-free vegans and the gluten and sugar free folks.
It may not be easy, but with great treats like these to look forward to, I know that this holiday will be a delicious one! Happy Holidays!