Peace Be With Me?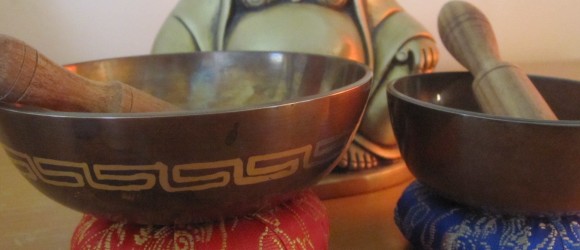 Thoughts! They sure do have staying power. My overworked brain would love to have a break.
I recently discovered that Tibetan singing bowls – rin gongs, suzu gongs- help my mind to rest.  They are, in essence, standing bells. Rather than hanging like other bells, singing bowls sit with their bottom surfaces resting.  By rubbing a wooden mallet around the top edge of the bowl, while applying constant pressure, strong harmonic tones are produced when the rim and sides vibrate.  They can also be played by striking the edge of the bowl with a mallet.  The sounds resonate through the air and peacefully fade into silence. They have been around for thousands of years and are used today for meditation and yoga practices, music therapy and sound healing, religious ceremonies, and overall well-being and relaxation.
After a helpful customer showed me how to make the bowls sing continuously, I bought a small bowl and brought it home for my husband and me to share. I realized instantly that it was very calming. My husband and I are both stalwart thinkers and worriers, and we happily discovered that our minds stayed clear of thoughts during the periods of our making the bowl sing. The instant our minds strayed, the singing would abruptly stop. By focusing on the process and listening to the reverberating sounds produced, any inner dialogue was gone!
It's a strange experience to actively change what's happening inside me. While my mind is free of thoughts, it feels like it is tingly with happiness – free to rejuvenate. Even afterwards, I feel different, refreshed, changed from the time before the singing. I bought a second bowl and the two sit together in our family room. I haven't incorporated these bowls into any regular practice. I just sing them whenever I want. Whatever peace I can bring into our home and my body is a wonderful thing.